Film, TV & SFX
Fire, Medical & SFX Services for the Film Industry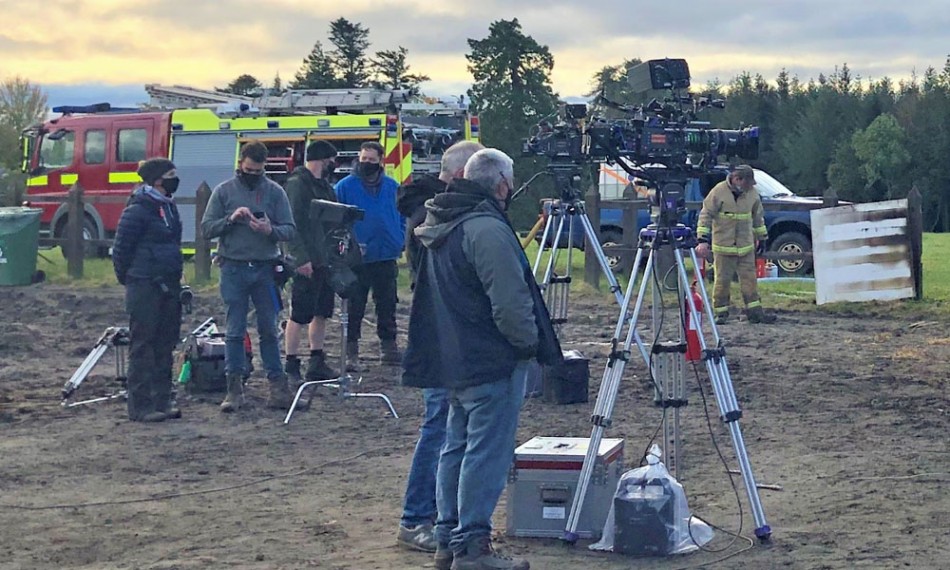 We specifically provide Fire & Rescue / Medic Services for Film Productions as required by the statutory Health & Safety Regulations. We can provide both Fire & Medic services at your film studio, unit base and also out at your location shoot within all 32 counties of the Emerald Isle.
As many of our operatives are fully qualified Firefighter - EMTs, we can provide a combined service for both film production safety Fire-Medics and also for 'In shot personnel & props' utilising the required resources within a 'Dual Responder Unit' reducing the expense of using multiple agencies for separate roles and using our Combined Fire & Medic Service lets you have both services organised & controlled via a single appointed person eliminating the risk of communication issues arising between separate Fire & Medic providers.
At Fire-Medics we have a large range of Emergency Vehicles available for your film production requirements at exceptional rates providing placement at your film studio, unit base & 'On location' settings, and we can provide our 'off road 4x4 responder' vehicles for those hard to access location shoots either as a prop or a fully kitted emergency responder vehicle.
SFX - We also offer Special Effects Services (SFX) either within our overall Fire & Medic Film Cover Services or as a Standalone Service. Our in-house SFX delivery partner can provide a huge range of Ingenious Special Effects for Film, TV & Live Events both nationally and internationally.
Our dedicated SFX Engineers have over 25 years experience in Pyrotechnical, High Voltage, Wind, Smoke, Snow, Rain, Fire, Mechanical effects and so much more.
We can also provide you with SFX assistants to be your 'foot soldiers' if you need support for your own SFX teams should you be perhaps a visiting SFX company coming in from abroad.
At Fire-Medics we can provide our own 'on the ground' SFX technicians along with our own fire crews, vehicles and equipment to support and supplement your projects.
Fire-Medics can provide both SFX and Qualified Firefighter / Operatives as support crews for your production specific SFX, Fire Safety & Water requirements etc and our people can work with your team helping to complement your SFX production requirements as an alternative to you bringing in costly labour from abroad which can often be inefficient due to the other overheads associated with travel & accommodation costs.
Why Choose Fire-Medics?
We offer qualified and professional staff, free quotations and competitive prices.

Our senior team combin 120+ years operational firefighting experience and over 70 years frontline medic experience.

Our SFX team have over 25 years experience in delivering a Platinum Service to high profile Event Organisers & Film Production Companies and continue to grow from strength to strength.
Our dedicated fire & rescue, medic and SFX crews work nationwide throughout Ireland and are continuously improving their extensive skills through regular training and assessments many who are still operational firefighters and emergency medics.
Fire-Medics also provide various levels of in-house Fire & Rescue Training for Corporate Organisations and Private Industry, and in partnership with our Medical Training Partners we can deliver accredited Medical Courses including Cardiac First Responder, First Aid Responder, Emergency First Responder & Emergency Medical Technician Practitioner qualifications.
Fire-Medics is a trading name of Fire & Medic Services Ltd
Dublin:
Carlisle Business Park
51 Bracken Road
Sandyford
Dublin
D18 CV48
Ireland
Belfast:
The Mount Business Centre
2 Woodstock Link
Belfast
BT68DD
Northern Ireland
Main Offices: Dublin & Belfast, Serviced outlets also at Wicklow, Cork, Sligo & Donegal
Contact Us for your Fire / Medic Event cover, safety and training throughout Counties Antrim, Armagh, Carlow, Cavan, Clare, Cork, Derry, Donegal, Down, Dublin, Fermanagh, Galway, Kerry, Kildare, Kilkenny, Laois, Leitrim, Limerick, Longford, Louth, Mayo, Meath, Monaghan, Offaly, Roscommon, Sligo, Tipperary, Tyrone, Waterford, Westmeath, Wexford & Wicklow