Response Fire Cover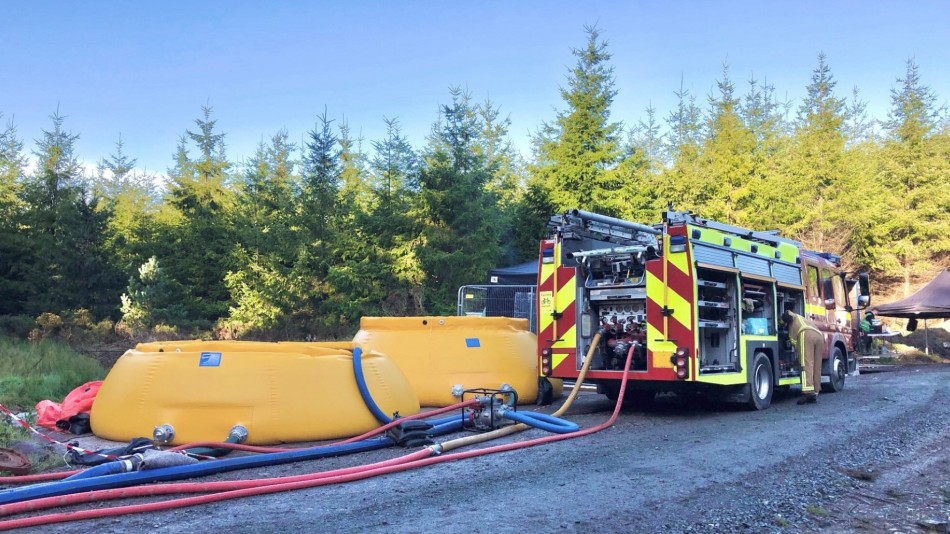 During the Construction, Event and Decommissioning Phases of your project or event, we can provide First Response Fire and Rescue Cover to help you minimise the risk of damage caused by a fire should it occur, until the arrival of Local Emergency Services (should their attendance be required).
Most often such fire incidents are caused by anything from a rapidly spreading 'out of control' rubbish fire, to a catering cabin or a vehicle or generator fire often caused by overheating or a mechanical defect. Such fires have a tendency to spread rapidly and get out of control, causing serious damage to the subject & adjacent property and sadly on occasion, endangerment also to those who try to extinguish such fires.
Fire Cover can be arranged in either 12 hour periods or 24/7 cover if required and crew numbers can vary from a single firefighter to a full crew, dependent on the risk safety requirements. We can agree a cover package to meet your project or event's fire protection needs, ensuring that our crews are ready to respond to such on-site incident. We can also provide First Responder / Medics within the package if required.
Whilst Fire-Medics can provide stand alone Fire & Rescue or independent Medic Cover (depending on Safety & Risk requirements), we can also supply a Gold Level Combined Fire & Medic Cover package, complete with Fire Risk Assessments, Fire Safety Training, Fire Extinguisher and Mobile Fire Alarm Hire and provide a trained & competent 'Single Point of Contact' to arrange & supervise your project or event's safety needs.
The Combined Fire & Medic Package means that as well as being on standby at the site to respond to Fire related incidents, the crews can also be available to conduct First Aid / Medic services, thus delivering financial savings when availing of the Fire & Rescue, and Medical Cover as a dual service coordinated and delivered from a dedicated Safety Coordinator within the site.
Fire-Medics also offer dust suppression services for events or sites to reduce health & safety issues caused by rising dust and pollen during dry weather conditions. We also provide Dust Suppression Management Services for Demolition Sites in Urban settings which are often a stipulation condition within Local Planning and / or Health & Safety Regulations.
Why Choose Fire-Medics?
We offer qualified and professional staff, free quotations and competitive prices.

Our senior team combin 120+ years operational firefighting experience and over 70 years frontline medic experience.

Our SFX team have over 25 years experience in delivering a Platinum Service to high profile Event Organisers & Film Production Companies and continue to grow from strength to strength.
Our dedicated fire & rescue, medic and SFX crews work nationwide throughout Ireland and are continuously improving their extensive skills through regular training and assessments many who are still operational firefighters and emergency medics.
Fire-Medics also provide various levels of in-house Fire & Rescue Training for Corporate Organisations and Private Industry, and in partnership with our Medical Training Partners we can deliver accredited Medical Courses including Cardiac First Responder, First Aid Responder, Emergency First Responder & Emergency Medical Technician Practitioner qualifications.
Fire-Medics is a trading name of Fire & Medic Services Ltd
Dublin:
Carlisle Business Park
51 Bracken Road
Sandyford
Dublin
D18 CV48
Ireland
Belfast:
The Mount Business Centre
2 Woodstock Link
Belfast
BT68DD
Northern Ireland
Main Offices: Dublin & Belfast, Serviced outlets also at Wicklow, Cork, Sligo & Donegal
Contact Us for your Fire / Medic Event cover, safety and training throughout Counties Antrim, Armagh, Carlow, Cavan, Clare, Cork, Derry, Donegal, Down, Dublin, Fermanagh, Galway, Kerry, Kildare, Kilkenny, Laois, Leitrim, Limerick, Longford, Louth, Mayo, Meath, Monaghan, Offaly, Roscommon, Sligo, Tipperary, Tyrone, Waterford, Westmeath, Wexford & Wicklow